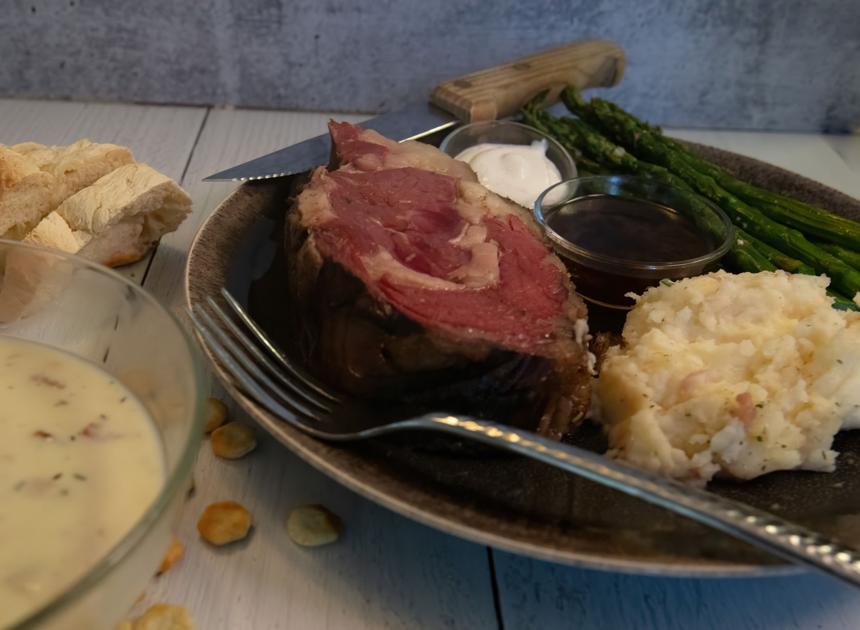 For a beef lover, going to a steakhouse for a juicy cut of USDA-grade meat is one of the joys of dining at a restaurant. All of our local steakhouses initially closed during the coronavirus shutdown. But over the weeks and months, a few of these restaurants have reopened for take out. By the end of this week, all steakhouses in central Oregon will be open for on-site and take-out dining.
Most of these restaurants have limited menus or may have limited availability of certain items. Yet your favorite cuts of beef are now served at popular restaurants from Prineville to Tumalo.
During the closing time I first cooked steaks from Bos Taurus and Kayo's Dinner House in my own kitchen. Tumalo (Feed Company) Steakhouse opened for take out and was eventually joined by Barney Prine's and Brickhouse for dinner. Pine Tavern then opened in mid-May and Blacksmith opens on June 19. All of these restaurants will offer take-out meals.
Despite news that COVID-19 has hit some meat processing plants causing shortages, all local steakhouses have been able to get the beef they need. Yet strict coronavirus regulations weigh on the quantity and quality of meat available.
Social distancing requirements at meat processing plants mean there are fewer workers. Jeff Porad, owner of the Brickhouse restaurants in Redmond and Bend, explained that the processing plants are operating at about 35% of their capacity. The reduction in production affects the quality of the beef that leaves the factories. In order for a cut of meat to be rated USDA Prime, it must be a young animal with marbling of fat all over it. Under normal circumstances, less than 3% of beef in the United States receives this highest grade. Because the plants cannot take over the cattle quickly enough, the animals stay on pasture or in feedlots. As they age, beef can be downgraded to a Choice cut.
Brickworks in RedmondSo far, Brickhouse has had no problem getting their usual best cuts. The all-natural beef is raised without hormones and comes to them from Northwest Washington. The quality of the meat was evident in the appetizing 17 oz rib eye I ordered. Tender, not too fatty and finely seasoned, the steak did not require any sauce or garnish. Firm and creamy mashed potatoes, asparagus and tender carrots accompanied the meat.
If steak isn't your thing, Brickhouse has added several Italian dishes to the menu since it reopened. We ordered the fresh bolognese ravioli (also available with spinach Alfredo for vegetarians). The light red sauce was accompanied by chunks of tomatoes, ground beef and a blend of distinct but harmonious Italian spices.
Note that the Bend Brickhouse will reopen in August after completing renovations to the restaurant.
Tumalo Feed Company Steakhouse in Tumalo
Conveniently located on US Highway 20 between Bend and Sisters, Tumalo Feed Company has the atmosphere of an old cowboy steakhouse. A friend and I had our dinner and decided to eat al fresco along the Deschutes River in Tumalo. We shared a 12 ounce rib eye with mashed potatoes and broccoli and chicken marsala. The steak was perfectly cooked (I like it medium rare) and well seasoned with a bit of fat around the edges which added a juicy flavor.
The preparation of the Marsala chicken was creamier than most recipes, and there was no aroma or flavor of Marsala wine. Nonetheless, the mushrooms in the sauce were filling and fresh, and overall the dish was satisfactory. We also ordered some take home beef stroganoff which was quite tasty. Lots of portabella mushrooms and tender pieces of steak were mixed with fettuccini-like pasta.
Texas toast-sized garlic bread was a reminder of his cowboy roots.
Barney Prine's Steakhouse and Saloon in Prineville
Barney Prine's in Prineville is a classic steakhouse that boasts of its extensive fish menu, including razor clam chowder and razor clam chowder. The clam chowder has always been one of the best I have ever tasted (as good or better than the chowder I have eaten at fancy restaurants along the coast). It's creamy without being too thick. The clams flavor the soup without being too potent, with the right balance of the other ingredients.
If you call for take out and get their voicemail, wait a few minutes and call back. Barney Prine's serves USDA quality meat. The beef medallions caught my eye. Three medallions are served with a few crimini mushrooms on top and a thick Bernese sauce. I chose the side of the red garlic potatoes which looked like crispy roasted potatoes for breakfast. We also opted for the chicken piccata with thick slices of olives and onions. It was accompanied by mashed potatoes (with a choice of brown or white sauce) and tender squash and baby carrots.
Kayo's Dinner and LoungeKayo's is famous for its prime rib. Indeed, the 16-ounce cup, which comes with juice and creamy horseradish, was tasty. It was accompanied by perfectly firm but creamy smoked gouda purees, with just a hint of gouda and a good serving of perfectly cooked asparagus. We shared a bowl of clam chowder with hints of bacon, enhancing the clams and other flavors. Crispy baguettes with a soft center and Kayo's signature salmon mousse spread were included in the meal.
We also chose a crab cake starter. Two large, thick crab cakes were made with a generous amount of crab meat. The fried patties were packed with flavor but not loads of bread.
While you can dine at all of these steakhouses, take-out options are also available. Bos Taurus has eliminated ready-made meals from its take-out menu, but still offers its raw meat butcher shop. Each steak comes with spices, butter, and instructions to make the meat as tasty as on the spot. The prices remain very reasonable. Kayo's is also continuing its "take-out protein" menu. When ordering from Brickhouse they suggested not to cook the meat if I would reheat it when I got home.
The reopening of steakhouses gives us carnivores the feeling that we are headed for a normal world.