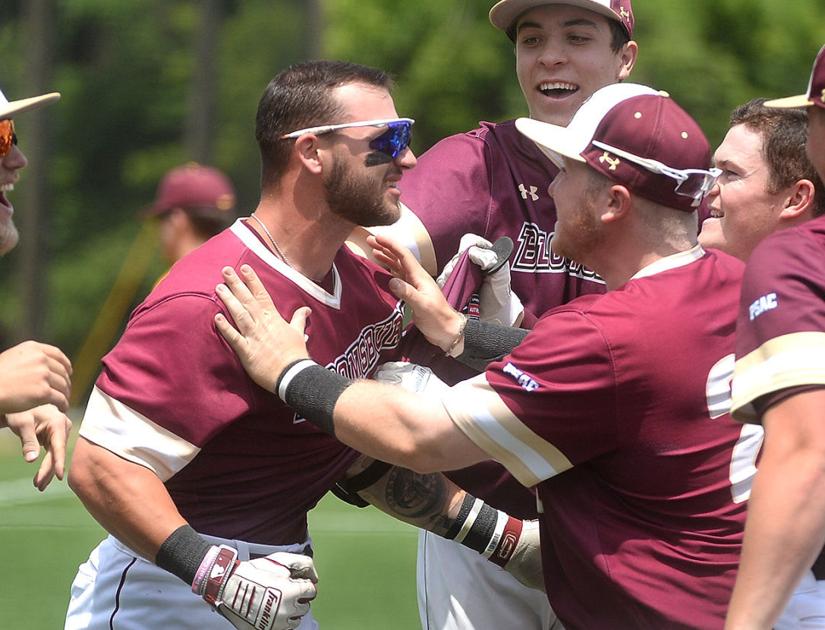 It has been a while since rivals from Crosstown, the University of Charleston and the State of West Virginia, last met on the baseball field – May 5, 2019 to be exact.
And it is likely that neither side could have imagined that their next meeting would take place under the circumstances that Friday morning will present.
The Golden Eagles and Yellow Jackets dropped out of the NCAA Atlantic Division II opener Thursday at Segra Field at the Welch Sports Complex in Charleston in eerily similar games, until the final scores. Both teams fell on hits, with UC losing to Bloomsburg in 10 innings early in the afternoon and State to Millersville the following game, both games ending with scores of 3-2.
The losses put the UC and the state in a do-or-die tilt scheduled for 11 a.m. on Friday. Bloomsburg advanced to face seeded Seton Hill later Thursday night, with the game played after press time. Second-seeded Millersville remained afloat in the winner's range and is set to play the winner of Thursday night's late game at 3 p.m. Friday, with the loser of that contest set to face the winner of UC-State at 7. .
While the rivalry game that has been brewing for the past two years is a fine twist, both teams have more to worry about than any sort of friendly hatred. At this point, it's all about survival.
"When you get to that point, you kind of take the familiarity and the rivalry out there, you throw it out the window," said state coach Sean Loyd. "All this other stuff is just static and noise. You need to focus on yourself and do the best job you can do to stay alive. "
With both teams falling in a near-failed fashion, the two had to quickly put the assumptions and possibilities behind them with the date of Friday morning with doom looming. This was especially true for UC (31-12), who held a 2-0 lead with two strikeouts in the eighth inning before falling into extra frame.
"You can't dwell on it and tomorrow the most important thing is that you are going to play a team that is in the same situation as us, and there is going to be a lot of emotion," UC coach Robbie Britt said. "Playing cool and being able to lead a nine-innings baseball game when there are ups and downs is going to be really important in order to extend our season tomorrow."
The fifth-seeded Golden Eagles behind starter Logan Campbell carried that 2-0 advantage in the eighth and Campbell, who was struggling with increasing number of throws after working through the first two frames, persuaded a steal Kyle OFier from the Huskies and a pop-out from Gianni Sinatore to start the frame. Ben Newbert followed with a single dribble down the middle, putting one with two outs.
At that point, Campbell was well in the triple digits in terms of throws, but Britt stayed with his ace. Cole Swiger made Charleston pay off to the very next at bat, dropping a 1-2 pitch to the right center field wall to suddenly tie things up. Campbell would face another batter, yielding a single in the field and making a pitch error before going out after 145 pitches.
"It's your best arm, it was rolling – best arm, rolling, there was no thought. He was our guy, "Britt said.
Campbell was largely dominant after working on foundation-laden jams in each of the first and second innings. From there to Sinatore's single, Campbell faced just two above the minimum. He struck out 10 for the game with seven hits, two goals and two hits. He was replaced by Robert Fultineer, who escaped from the eighth without further damage.
Both teams went quietly into the ninth and after Charleston (31-12) blocked Jesse Elliot at first base at the top of 10th, OFier quickly ended things down with a solo shot to left center field. , giving Bloomsburg the 3-2. march victory.
As for State, seeded third (32-9), the Yellow Jackets caught up almost from the start as the Marauders (29-13) struck for a run for second on a field single for Cole Friese. and an RBI double. by Jimmy Losh. State responded with a solo Matthew Kline home run in the fourth, with Millersville regaining the lead in the fifth on a single RBI over Bren Taylor's bat.
Once again, State's response was swift and thunderous as Andrew Stone made a home run down center-right to take the lead in sixth. From there, both teams danced around trouble until Millersville clinched the 1-2 knockout combination as Justin Taylor led the bottom of the ninth with a straight single and Pete Vaccaro immediately called. with a double in the center left.
State certainly had its chances, leaving 10 runners on base, including two in each of the eighth and ninth frames.
"Halfway through the heats there we had a few chances, guys second, guys second and third – sometimes it's hard to get the big shot," said Loyd. "A lot of times the game isn't won or lost in the last set, it's won or lost in the middle and we had a few shots to maybe build a lead at that point."
Marauders' Bren Taylor almost single-handedly knocked State off the board in the seventh, taking a run into the left-center gap to deprive Christopher Jordan of a hit, then stealing a Matt Harrison home run in the very next. batting.
Kline went 3 for 4 to lead State and Trey Junkins was 2 for 4.