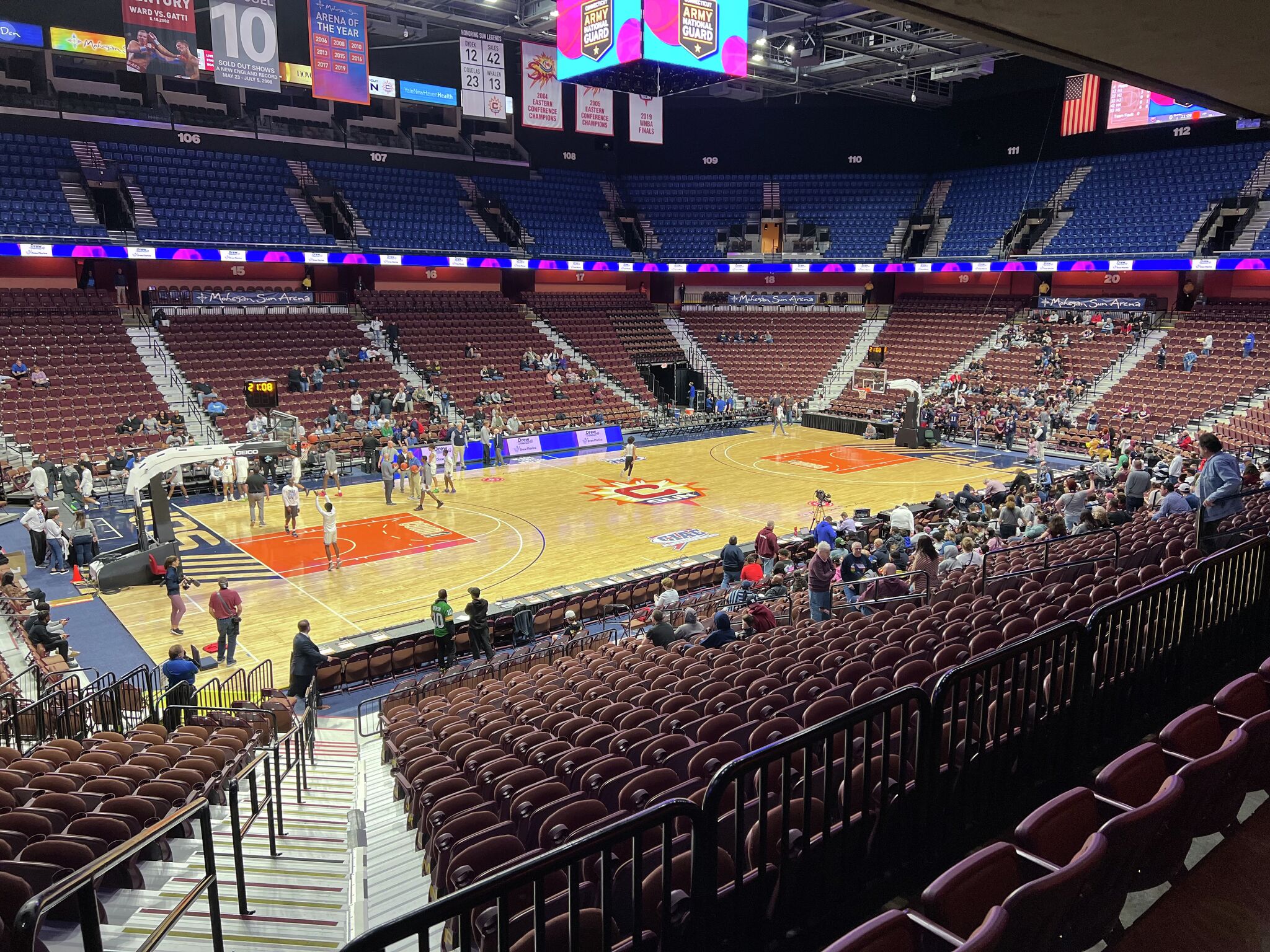 DIVISION V BOYS
No. 8 WINDHAM 62,  No. 2 SMSA 56
— That's the way to start the weekend. Great game by both teams. Well-played on both sides. 
— Hunter, the freshman, hits 2 free throws. Windham 62, SMSA 56. Whippets win first state title since 1941. 
— Turnover SMSA 8 seconds left.
— Hunter 1 of 2 from line. Windham up 60-56 with 12 seconds left. Hunter 18 points.
— Mangual follow for Windham, Miller layup for SMSA. Windham leads 59-56 14 seconds left.
— SMSA Kemani Thompson a 3 pointer 57-54, Windham. 39 seconds left.
— Freshman Malcolm Hunter hits 1 of 2, Windham up 57-51.
— Windham, a 14-time state champion in wrestling is 1:28 away from first CIAC boys basketball title since 1941. Up 56-50. Windham ball.
— Every time Windham puts together a run, SMSA responds to keep it within reach. Windham up 54-48 with 3:10 left. SMSA led by Daniel Hernandez with 17. 
— Don't care what division this is, Isaiah Alexis Mangual, a 6-5 junior just came up with a gorgeous power spin move for a layin in the lane. Windham up 52-43.
— Hunter and Mangual cousins (juniors, by the way) have combined for 41 of Windham's 50 points.
— Windham students chanting "He's a freshman! He's a freshman!" after Hunter hits another 3. Windham up 50-41. Hunter with 15 points, 5-for-9 from 3. 6:44 left.
THIRD QUARTER
— SMSA six straight points. 47-41 Windham., SMSA will not go away. End of third quarter. Both teams shooting better than 50 percent from field. 
— Malcom Hunter on fire, hits another 3-pointer. Windham up 45-35. Hunter, a FRESHMAN, has three 3s and 12 points. 1:21 left in thrid.
— Back to back 3-pointers held Windham start half with 9-2 run, up 35-29.
SECOND QUARTER
— SMSA is led by junior guard Daniel Hernandez's 10 points. Windham led by Isaiah Alexis Mangual's 13 points.
— Halftime. Tied at 27-27.
— Tie game. Miller connects on free throw. Less than a minute in half.
— We've got a game here again. SMSA within 27-24 after being down 11. 1:39 left in the first half.
— SMSA six straight points. Time out Windham, who leads 27-22 with 3:10 left in half.
— Timeout SMSA. 4:18 left in first half. Windham up 27-16. 11-4 run to open second quarter. Mangual cousins have combined for 20.     Isaiah Alexis Mangual with 13.
— Windham up 23-16. Mangual cousins have combined for 16 points. 
FIRST QUARTER
— Windham leads 16-12 after one quarter.
— Windham up15-9 in first quarter,   6-5 junior forward Isaiah Alexis Mangual leading way with nine points. Has made all four of his field goal attempts.
— Good action early, Hunter with a 3. Windham up 10-7. 4:16 left in 1st quarter.
— Mangual with all five points Windham, up 5-1 early.
— There's something special about the smaller divisions in state championship finals. 
SMSA (That's Sports and Medical Sciences Academy in Hartford) making its first championship appearance.
Windham, which got here on a last-second 3-pointer, is making its first appearance since 1941!
— We are 5 minutes from the start of the best weekend in high school sports. Two days. 10 games. And a whole lot of memories.
SATURDAY'S SCHEDULE
10 a.m. — Division V Boys Basketball: No. 8 WINDHAM (18-6) vs. No. 2 SMSA (19-4)
12:30 p.m. — Class S Girls Basketball: No. 1 THOMASTON (20-3) vs. No. 3 COVENTRY (18-5)
3 p.m. — Division III Boys Basketball: No. 3 HAND (20-3) vs. No. 1 KOLBE CATHEDRAL (20-2)
6:15 p.m. — Class L Girls Basketball: No. 1 NEWINGTON (22-1) vs. No. 3 NOTRE DAME-FAIRFIELD (19-3)
8:15 p.m. — Division II Boys Basketball: No. 1 BRISTOL CENTRAL (23-0) vs. No. 2 NORTHWEST CATHOLIC (22-1)