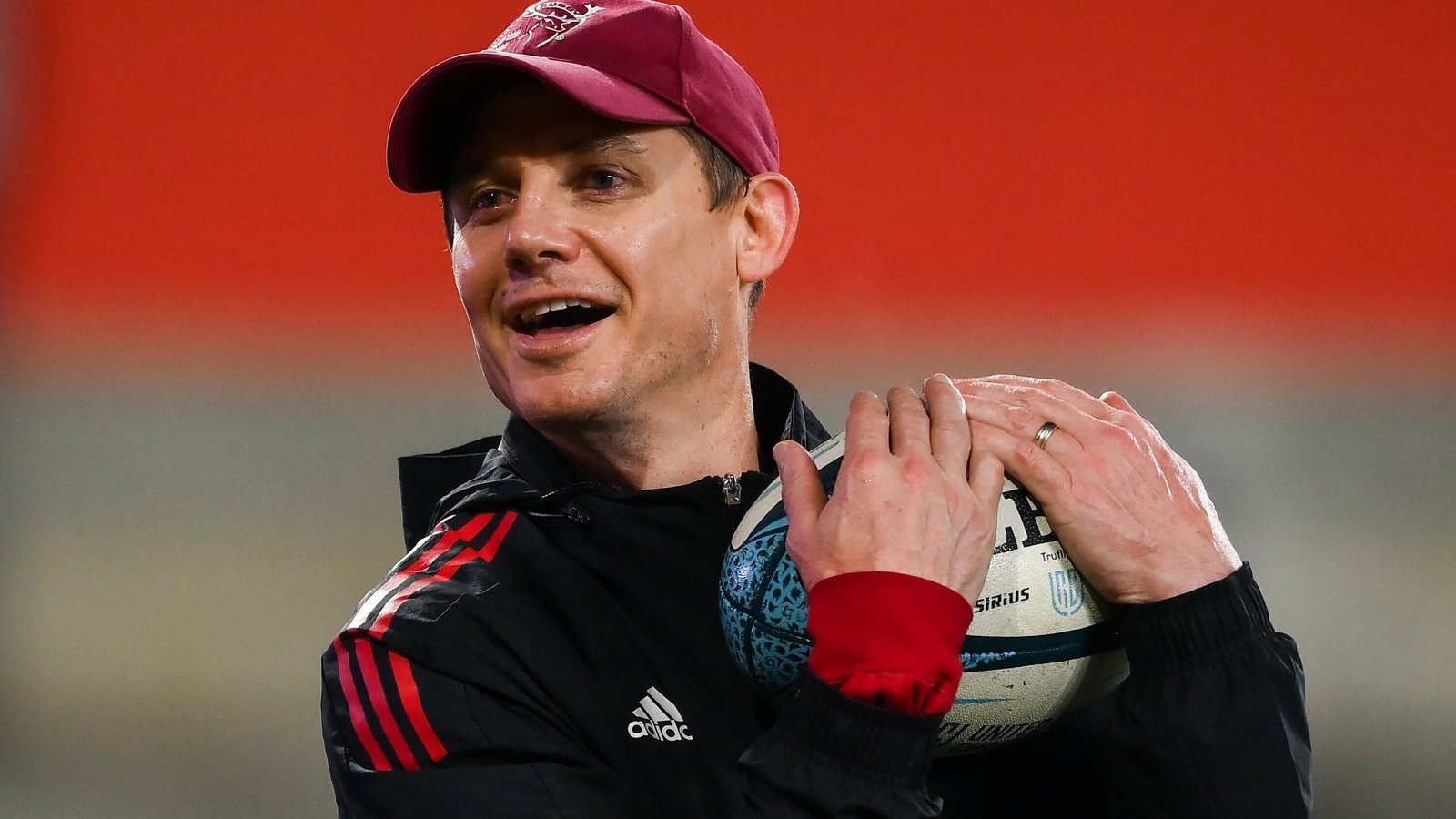 Stephen Larkham believes Munster are '"definitely" improving and has defended the province against criticism of their style of play.
Johann van Graan's side have won four of five games – against Wasps, Ulster and Castres twice – since returning from the Covid-19-hit tour of South Africa, coping along the way with numerous cases and injuries.
However, some high-profile former players, such as Peter Stringer and Donal Lenihan, have questioned the direction of the team and whether their game plan is varied enough to trouble sides at the business end of the season.
"We have seen no evidence to suggest that Munster's approach has changed one iota since the dismal performance against Leinster in last season's Pro14 final," wrote Lenihan in the Irish Examiner.
Asked if, given the results, some of the commentary has been unfair, the Australian told RTÉ Sport: "There are positive and negative comments. There are parts of those games we're happy with.
"If you look at our previous four games some passages haven't been great.
"We put our hand up and said we need to be better.
"In others, the referees have made some questionable decisions that have made it very difficult to get a roll on.
"And then recently we've had a couple of really good passages in a couple of really good performances.
"Maybe the score didn't reflect how well we've played in the last couple of games."
Van Graan, Larkham and defence coach JP Ferreira will all depart at the end of the season.
Asked if it was too late in the coaching tenures to expand their game, Larkham, who leaves for Brumbies in summer, added: "You've got to be realistic when you look at our game.
"We are not the team that kicks the most in our games. I know we have been criticised for kicking too much in the past but the stats just don't add up.
"We feel that we've got a very balanced game and a game that we want to play.
"We feel that we when there is an opportunity on the table that we take that opportunity.
"I think we've got a sound game and we are improving.
"We've spoken to you guys [media] a couple of times this season, we've definitely improved and I feel we're improving.
"We're looking to improve every week and some weeks the game doesn't come together with the conditions or the referee or the circumstances.
"We certainly have enough variety in our game."
Meanwhile, Stephen Archer, who hopes to win his 237th cap against Wasps on Sunday, insists that players are free to speak up if they feel things are not right but they are really focused on getting on with their jobs.
"It's more so a heads-down approach," said the 33-year-old prop.
"We've a big mix of players in our squad, experienced international players and young and up and coming players. We've very much a heads-down approach. Lads are working hard every day.
"I wouldn't say there is rowing but it's a very competitive environment, particularly on the field.
"Any of the good teams I've been involved in there's a lot of competition, there and fellows trying to get better every day and there's a good work ethic there."
Munster have qualified for the round of 16 in the Heineken Champions Cup and face a Wasps team on Sunday that have recently beaten Leicester and Toulouse.
Follow Bath v Leinster (Saturday, 1pm), Ulster v Clermont (Saturday, 5.30pm), Stade v Connacht (Sunday, 1pm) and Munster v Wasps (Sunday, 3.15pm) via our live blogs on rte.ie/sport or on the RTÉ News App, or listen to live radio coverage of Bath v Leinster on RTÉ Radio 1 Extra and RTÉ Radio 1.