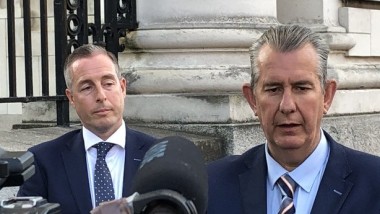 The DUP has been at the center of much media and political commentary in recent weeks, both north and south.
In all of this there is a widely held opinion that DUP is not serious about living and working in partnership and with mutual respect, with a significant part of this society.
Huge questions exist as to its future commitment to implement appropriate power sharing.
If the DUP is to be assessed by its record to date, within political institutions, and particularly in the period from August 2013, then there is cause for concern.
The last ten years of politics in the north have been associated with the DUP's bad decisions, broken commitments and its overall political mark, which is the anathema of a modern democratic society.
As a party, it lost the confidence of the vast majority in this society, and among the wider public opinion nationally and in Britain.
This reality was strongly reinforced by the inflammatory language of senior DUP politicians and the disproportionate influence of unionist extremists, which once again fueled tensions and provoked further political instability.
By extension, in an attempt to outflank other Unionist rivals, the DUP introduced a plan of chaos within political institutions.
The Irish protocol was seized as a pseudo justification for these actions.
With the next legislative elections scheduled for May 2022, it is evident that the DUP's only priority is to remain dominant within unionism. Hence, for example, the renewed emphasis by senior party officials on sensitizing unionist paramilitary organizations.
Political unionism, and the DUP in particular, is in a state of disarray, mainly due to the self-inflicted consequences of their reckless support for Brexit, and the inevitable and calamitous consequences that have been created. The coup d'état against the leader of the DUP five weeks ago is a direct consequence of this.
Brexit, the fallout from the protocol and the impacts of the pandemic have fundamentally realigned politics in the north.
In the centenary year of the partition of Ireland, political discourse is now dominated by a drive for Irish unity.
The prospect of a possible referendum on unity offers citizens a choice – between a union with an increasingly unstable, inward-looking, Conservative-dominated Ireland, Brexit Britain – or the possibility of being part of it. 'a new, modern, pluralist and outward-looking Ireland.
Many decided that their interests would be better served in a new Irish constitutional democracy; others are now considering such a scenario very seriously, as an alternative to the current status quo.
DUP's record of bad decisions, faulty leadership and lack of progressive vision has also alienated many within civic unionism.
Unionism is changing.
A new leader who speaks liberal language has been chosen to lead Ulster's smaller Unionist party. But he opposes an Irish language law. Such a position is incompatible with equality and the new political approach that he claims to represent on behalf of his party.
And, the DUP will also have a new management team.
This group's power-sharing intentions are uncertain. We will find out soon enough.
But this is crystal clear: good government; efficient public services; urgent improvements to our beleaguered health service; and, responding to other key priorities, will not be sustainable in the absence of a commitment to appropriate power sharing, and adherence to and implementation of Good Friday and all successor agreements.
The appointment of a new DUP prime minister is not a zero-sum decision.
There are broader issues.
Democrats and progressives in the north have clear expectations that must be met; including, an Irish Language Act; operational north / south ministerial bodies and processes; commitment to rights-based public policy priorities; fitting out of the GAA Casement stadium; delivery of the Maze / Long Kesh project; and the resolution of outstanding legacy issues through the Stormont House deal.
The DUP must stop stalling, frustrating and blocking the delivery of these bonds.
Sinn Féin wants this power-sharing executive to contribute to housing, economic growth and new capacity in health services.
The historic Sinn Féin housing plan presented in October 2021 by the then Minister of Communities, Carál Ní Chuilín
Our party has presented a strategy for the most ambitious expansion of social housing in the six counties since 1970, which will secure investments to build new stocks and create an associated economic stimulus.
We called for a "health summit," including all stakeholders, to strategically address hospital waiting lists.
We believe that this multi-party executive should give priority to the development of an economic and industrial growth plan, through a structured partnership with our employers' organizations and the trade union movement.
Sinn Féin wants ambitious strategies to target foreign investment in the north and to provide increased support to our local manufacturing sectors and small and medium enterprises.
So this new DUP leadership should take a little time – but not a lot – to make the right decisions.
The new party leadership must understand that it is no longer tenable for the DUP to continue to vandalize the Good Friday Agreement (GFA) and try to undermine the North / South Ministerial Council; or to thwart the process of good government; or to refuse meetings with large sections of civil society, such as the Irish Congress of Trade Unions.
Sinn Féin wants power sharing to work properly.
We have demonstrated this consistently.
Sinn Féin ministers made an unambiguous commitment to ensure that all forms of intergovernmental relations function effectively, both north / south and east / west and, between the north, England, Scotland and Wales .
But our goodwill should not be taken for granted.
Power sharing is a two-way street. The rights are not negotiable. Discrimination against any citizen or part of society is unacceptable. Everyone has the right to equality.
All negotiations are concluded. The new DUP leadership shouldn't make the mistake of overplaying their hand again.
More bad decisions by the DUP will further reduce public confidence in the effectiveness of power sharing and the political process in the north.
Citizens will no longer tolerate political institutions that do not meet their social, economic and political expectations or aspirations.
They know there are alternatives to Groundhog Day politics in Stormont institutions.
A constitutional change is in the air.
There is a tangible sense of popular political, economic and social ambition that can no longer be limited by the Northern State.
This dynamic is not limited to the island of Ireland. Many Scots and a growing number of Welsh are also energized by the grand idea of ​​constitutional change and political independence.
And this is where the challenge for the new leadership of DUP lies.
This could be a final roll of the dice for the DUP, to start making the right decisions about power sharing and ensuring that the Northern State exists as a warm place for everyone.