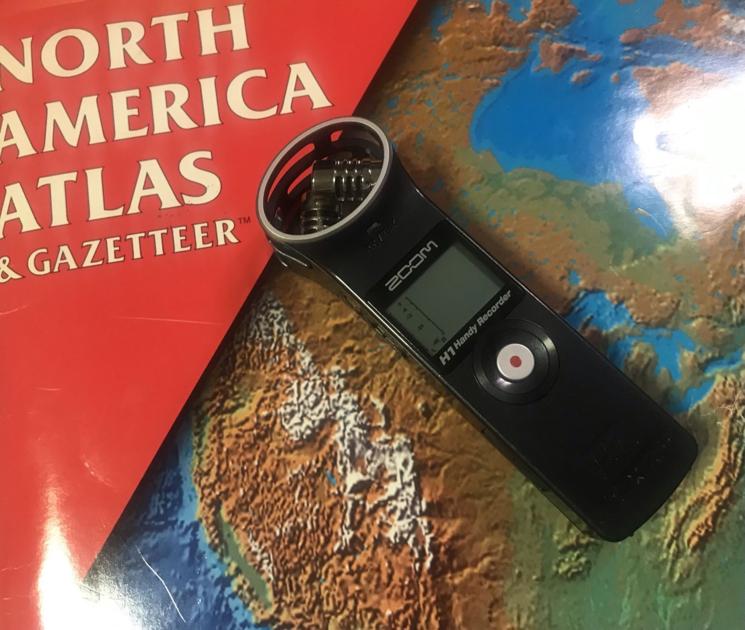 Hard plastic dice slammed against a table.
Voice actor Sam Riegel rolled low and the demented, but sort of kind-hearted Goblin Girl Nott the Brave happily led the "Mighty Nein" up a spiral staircase.
On the way, moving deeper into the False Serpent Temple, Nott stepped on a pressure point, triggering a trap. The stairs slanted, turned into a slide, and this group of valiant, not-so-valiant heroes slid awkwardly down, landing at the feet of poisonous snakes that were clearly doing no good.
This all happened as I was pushing a lawn mower side to side and side to side, slowly cutting through the tall grass in my shaggy yard.
I was in my second hour of mowing and had two more to do. I couldn't wait to hear what happened next on this episode of the "Critical Role" podcast, the first podcast I ever loved.
It was all very new to me again.
Over the years, I have spoken to many famous people for podcasting including Justin McElroy of Huntington ("My Brother, My Brother and I," "Sawbones" and "The Adventure Zone", among others), Anna Sale from Charleston ("Death, Sex and Money") and John Hodgman ("Judge John Hodgman"), but I've never been a fan of the platform.
When a podcast was good, it looked like a radio show. When it was bad it sounded like junior high school kids talking to the school PA.
I wanted to love them. The basic idea of ​​having a radio show that you can listen to on demand was very appealing. It was the same reason why people like to broadcast TV. Why wouldn't you want to listen to what you want when you want instead of letting someone else do it?
I wanted to like them, but I didn't find much to like.
Most of the podcasts I found were small talk shows or public affairs programs. I would get interested in an episode or two, then I would get bored and start listening to the radio, listening to music, or listening to audiobooks again.
My problem, it turned out, was a lack of imagination.
Then over the winter I started playing Dungeons & Dragons online with my friend Todd.
Todd is a doctor in Ohio, but he and I were roommates for a few years after college. I sometimes call him "my old and future roommate" or "my retirement plan".
He and I starved to death together when we were figuring out what we wanted to do with the rest of our lives. Todd did really well. His basement is probably nicer than my house.
But I have phone numbers and emails for all kinds of famous people. It's pretty cool too.
Todd said his group of players needed another player and wondered if I wanted to give it a try.
I grew up playing Dungeons & Dragons during the Great 'Satanic Panic' of the 1980s, when TV preachers and church youth groups swore oily-skinned nerds who liked to read about hobbits. and listened to Ozzy Osbourne would usher in a dark new age. , featuring heavy metal demons wearing spandex.
Hobbits got cool and Hollywood made a bunch of movies about them. Ozzy Osbourne, the alleged 'Prince of Darkness', became a reality TV star with his family and this dark age everyone worried about was ushered in by Reaganomics, the 24-hour cable news channels. and, I think, the Dave Matthews Band.
Playing Dungeons & Dragons had been for me, a nervous 12 year old, a way to make friends who loved "Star Wars", comics and stories about knights and wizards.
I played on and off for decades, but the game had changed a lot since I was a teenager. When I joined the "Masters of Isolation" group online, I quickly became frustrated and felt overwhelmed.
I had read the new rules but had not seen them applied. It was a bit like learning a new language without actually hearing it spoken.
One evening, while waiting for more players to log into Skype, one of the others started talking about the "Critical Role" podcast, which featured a group of voice actors who got together Thursday night to play Dungeons. & Dragons.
While it sounded weird to watch, I thought to myself, "Well, they televise poker games and chess tournaments. Why not?"
I downloaded an episode and expected very little.
I was hoping to hear how they were playing this game which I was trying to relearn and take some advice, so as not to feel so embarrassed with my new friends.
But it was more than just listening to professional nerds roll the dice and play 'pretend'. I loved the story and enjoyed the actors who brought the characters to life. It reminded me of live radio theater, scripted, but also full of improvisation.
"Critical Role" was heavy on humor (much of it was rowdy and rude), but the show had heart. There was a sense of family among the characters and a genuine affection for the show's fans, the "Critters," a community that interacted with the cast and could be mobilized to raise money for charity.
I was hooked before they got to the mid-show break. I wanted a "The traveler is my co-driver" bumper sticker for my car, a common podcast kind of joke – and I don't have any bumper stickers on my car.
After that first episode I went back to the archives and found a better place to start and slowly worked my way through several years of weekly three to four hour episodes.
I listen on long trips or when cutting grass.
Finding "Critical Role" opened up the world of podcasts to me, finally. He connected with me and sent me out looking for other podcasts that matched my interests. It also showed me that maybe I could do something.
I had the idea of ​​starting some sort of podcast at the newspaper for years. Before the pandemic, the newspaper ran a weekly podcast and I thought maybe I could do one on local arts and entertainment. But this kind of podcasting was strangely like work.
I have some radio experience. I've been reading the weather forecast and announcements for West Virginia Public Broadcasting for 18 years, but I'm not a great talent. I'm just sort of reliable and know enough not to swear at a live microphone.
With the summer and summer trips to come, I thought I might try podcasting again. I could explore the local podcasting landscape and maybe say hi to a few. I could also try to develop my own little podcast.
To help me get started, I spoke with Cathy Caudill, the newspaper's digital editor. She sent me a list of things I needed to figure out before I even really started.
I needed a name for the podcast and had to make sure that name wasn't taken by someone else. It would help if the name wasn't similar to another podcast either.
I needed to decide how often the podcast would be available for people to listen to, what day the podcast would launch, and how long each episode would be.
I needed a logo or cover image. I needed a landing page, a digital promotion plan and that was it before I did my first episode.
I needed a lot of things I hadn't even considered, "Let's start a podcast."
I had no idea, so I went to the library and picked up a book.