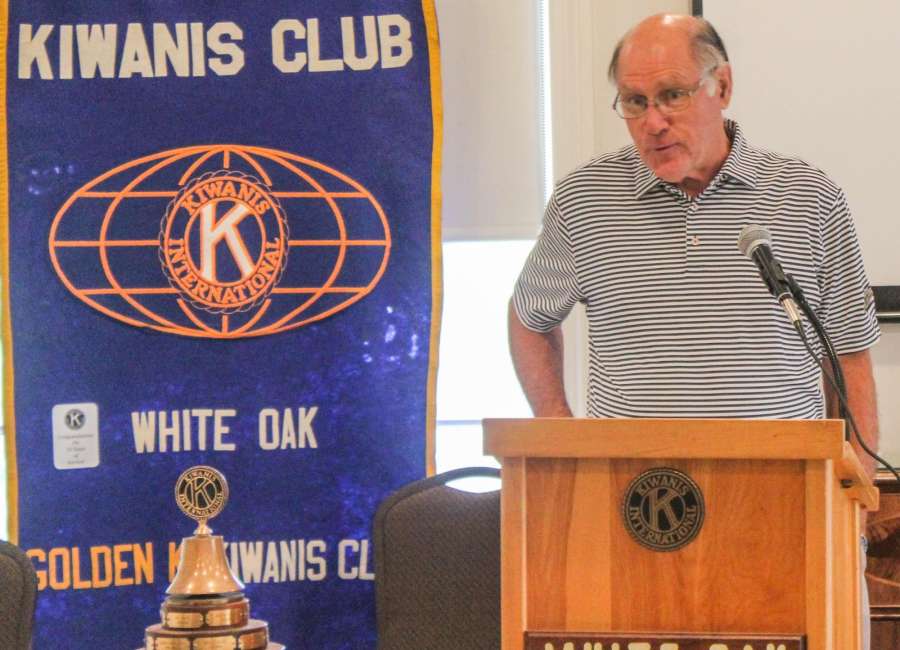 Rob Grubbs / The Newnan Times-Herald
The 2022 season will be the 42nd season Newnan Legend James "Radar" Brantley has been on the Cougar sidelines.
The White Oak Golden Kiwanis members got a special treat Thursday morning when former Newnan Cougars athletic trainer James "Radar" Brantley joined to share a career of stories from the Newnan Cougars sidelines.
Hired on the spot in 1981 by Newnan Cougars Head Coach Max Bass, Brantley dove into his career. The Dublin, Georgia, native had just graduated from Troy State and instantly became part of the Newnan.
In addition to his trainer role, Brantley taught at Ruth Hill Elementary School, was an assistant football coach, and coached some tennis and basketball.
Brantley shared stories about getting out of a Senoia speeding ticket by bartering a pair of size 11 athletic shoes, the penchant for Coach Bass to hand out themed T-shirts before games, and wearing a shade of green to his job interview that was too close to the Griffin Bears colors.
After the faux pas of the green attire, Brantley said the next day, Coach Bass issued him "T-shirts, shorts, coaching shirts and shoes. He gave me everything except underwear."
Soon after moving to Newnan, Brantley married the former Susan Kelley, who was from Newnan, and they have two children, Asher and Mason.
While at Newnan, Brantley has worked with five head coaches: Max Bass, Bob Kelly, Robert Herring, Mike McDonald and current coach Chip Walker. Even though he officially retired in 2016, he shared, "Coach Walker has let me hang around since I'm not hired by school system. I serve as an extra set of hands for current trainers, John Woolf and Jordan Kinnard."
Brantley's career accomplishments include serving at several all-star football games, being named the 1996 Jerry Rhea Athletic Trainer of the Year, and being inducted into two Hall-of-Fames. He is a member of the Georgia Athletic Trainers and the Coweta Sports Hall of Fames.
In his first season, the Cougars played in the State Championship game and lost to Warner Robins, 21-0. But it was much closer than that; Brantley spoke of a shoestring tackle, a dropped pass, and a fumble on the 10-yard line that doomed the Cougars.
Brantley cited the 2017 loss to North Gwinnett 38-35 in the third round as the best game he ever saw, even though the Cougars lost. In that game, Newnan quarterback Russell Powell threw for 360 yards and two touchdowns.
A high school football team rarely has a walking historian with hands-on experience on the sidelines every Friday night.
Brantley has seen some of the best Newnan football of all time. With the 2022 season just weeks away, there are still a lot of opportunities for Radar to see another Cougar classic.